Where all trails lead to home
At Woodbury Trails, the air is fresher, the water bluer, the pace of life gentler. Miles of open countryside invite you to explore and discover. Stunning sunsets over the lake enthrall you while sandy beaches offer unforgettable memories for the entire family. This is Keswick, less than an hour from Toronto, yet a world apart in beauty and charm. Perched on the southern shore of Lake Simcoe, Keswick offers the allure of a thriving waterside community with all the vibrant urban amenities that your family loves. In this one-of-a-kind setting, renowned GTA homebuilder Ballymore Homes now offers an irresistible opportunity to live a dream lifestyle amidst nature, water and community. Presenting Woodbury Trails, a charming enclave of exquisite detached homes designed for elegant family living. A place to live and to love, a neighbourhood to grow and thrive in, a sound investment in your future. Welcome home.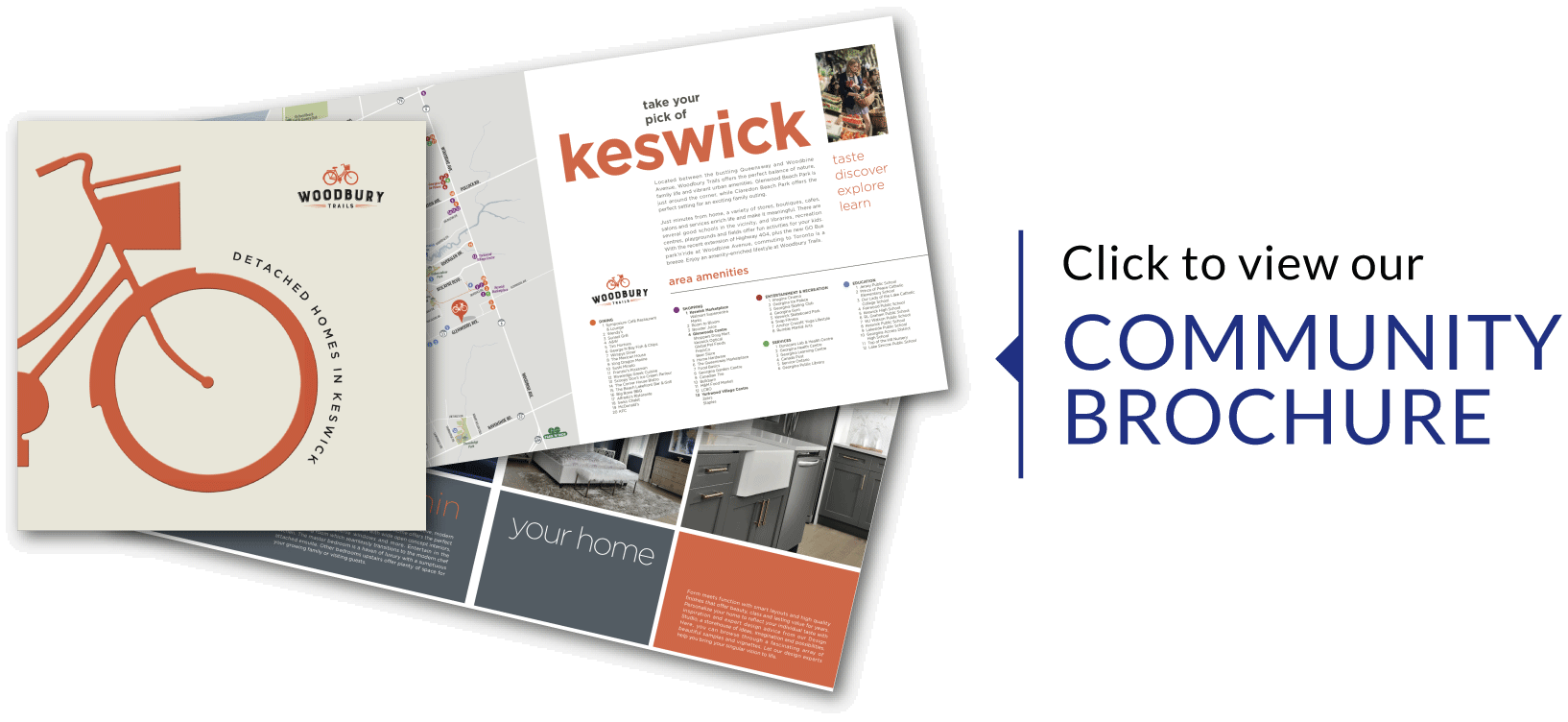 Take your pick of
KESWICK
Located between the bustling Queensway and Woodbine Avenue, Woodbury Trails offers the perfect balance of nature, family life and vibrant urban amenities. Glenwood Beach Park is just around the corner, while Claredon Beach Park offers the perfect setting for an exciting family outing.
Just minutes from home, a variety of stores, boutiques, cafes, salons and services enrich life and make it meaningful. There are several good schools in the vicinity, and libraries, recreation centres, playgrounds and fields offer fun activities for your kids. With the recent extension of Highway 404, plus the new GO Bus park'n'ride at Woodbine Avenue, commuting to Toronto is a breeze. Enjoy an amenity-enriched lifestyle at Woodbury Trails..
Download PDF